The Forum is a place to share stories and memories of Gordon Baldwin. Please email your contributions (text and images) to
info@gordonbaldwin.com
and we will post them on this page.
The Gordon Baldwin online archive

We are aiming to build an archive of Gordon Baldwin's work, including as much work as possible. If you have photos of Gordon Baldwin's work please email them to us at
info@gordonbaldwin.com
and we will include them on the web site.
---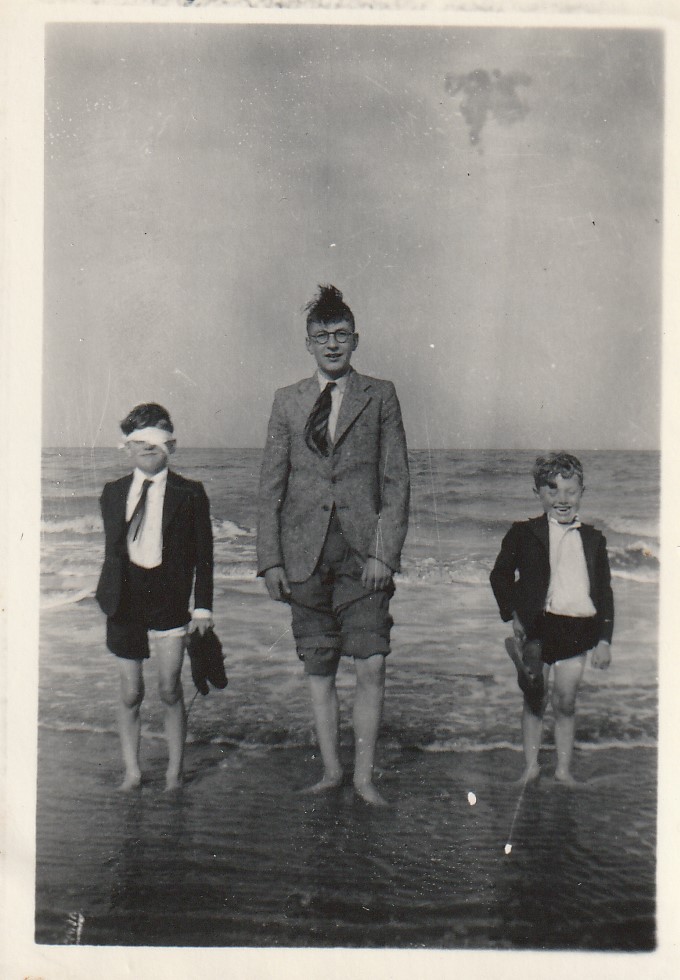 From Max Scott


6th December 2023


Gordon Baldwin, Max and Trevor. Trip to the sea, 1947.
Gordon Baldwin at the wheel, Central School, c.1952
The British Library

12th September 2023
Gordon Baldwin recorded his full life story in 2004 for Crafts' Lives, a National Life Stories project archived at the British Library [Collection item: C960/38].
Crafts' Lives is an oral history project started in 1999 which interviews craftspeople from across Britain. Each interview is a step-by-step exploration of the person's working practice embedded within the story of his or her own life, aiming to capture stories of life and work including working processes, materials, skills, financial and commercial aspects as well as family life.
Please click
here
to listen to Gordon Baldwin's life story.
For more information about Crafts' Lives, visit:
https://www.bl.uk/projects/national-life-stories-crafts-lives
For an interview with Gordon Baldwin conducted by Tanya Harrod in 1988, visit the British Library's Sound and Moving Image Catalogue (
http://sami.bl.uk
) and search item collection no. C1355/04.
---
Richard Slee: Lidded Jars, 1970, stoneware. Degree show, Central School of Art and Design
From Richard Slee


27th June 2023


Richard Slee was a student of Gordon Baldwin at Central School of Art and Design from 1965 to 1970.

"As a tutor at the central school of Art Gordon taught us first years hand-built ceramics one day a week, somehow one was expected to make sculptural work and not pots. My memory is of a project at one time setting us to make a large candlestick prompted by his angered disapproval of Hans Copers candlesticks for Coventry Cathedral. I wonder what he would have made.
The ceramics department was small a total of around 30 students over our three years so Gordon had a continued presence for us all. His teaching style was energetically conversational, serious always individual. His teaching day was long continuing into the evening when he would often be making his own work a privilege to see.
Later in my third and final year I remember a heated discussion with him over my work which at that time started to reference pottery iconography. He disapproved thinking it was not serious, flippant. The result of a then young proto-post modernist meeting a true Modernist. A lasting personal visual memory is of a slender figure a silhouette in a black polo nec with beautiful and I guess expensive chelsea boots.
My contact since has been sporadic but there was always the work."
- Richard Slee.

Ceramic convection heater


21st June 2023

An image from Central Saint Martin's archives: Ceramic convection heater standing 3' high. Would take any kind of heating unit, oil gas or electric.
The heaters were commissioned and sold by Heal's of Tottenham Court Road in 1952.

Images courtesy Central Saint Martins Museum & Study Collection.

Thanks to Rob Kessler.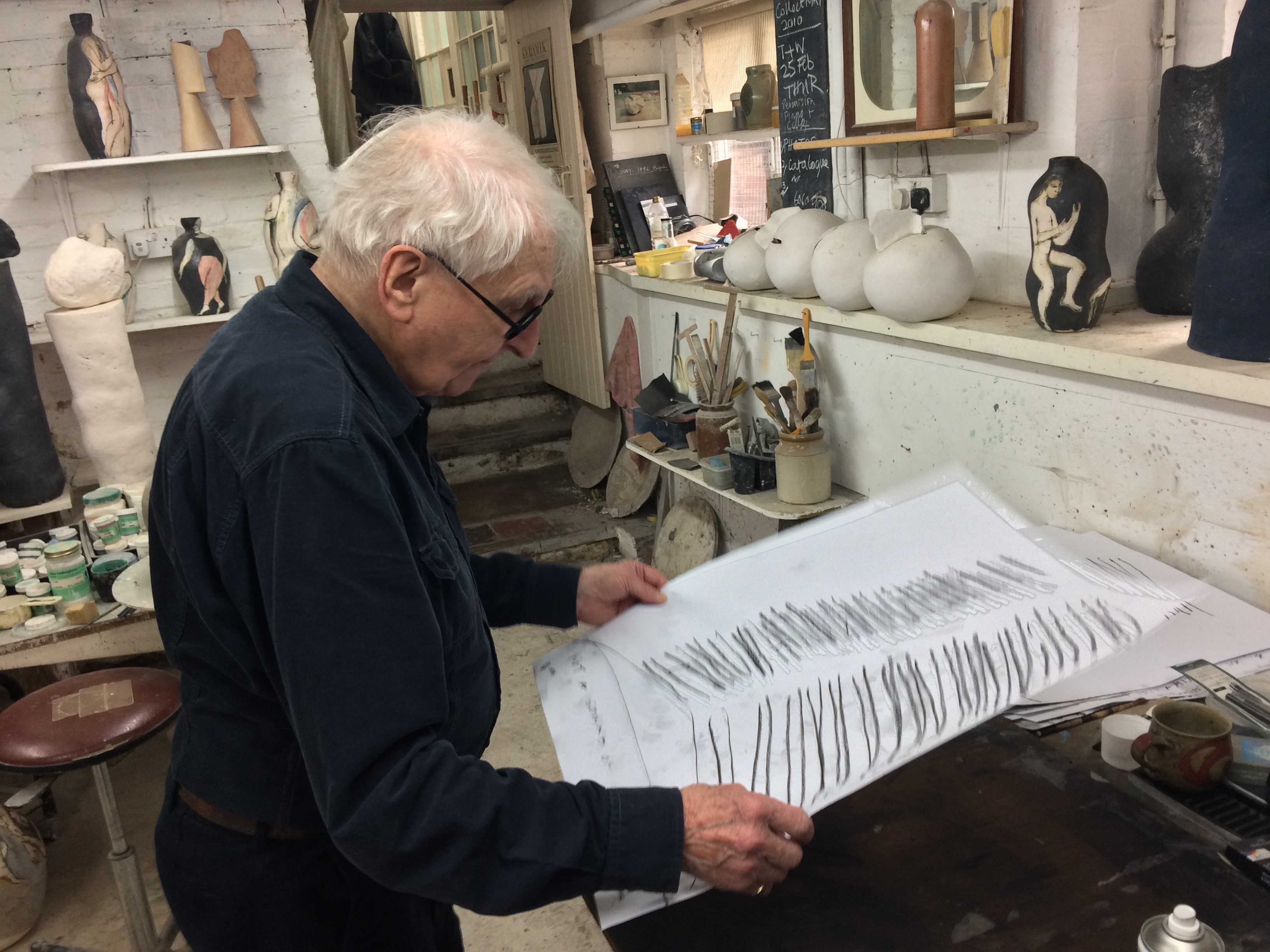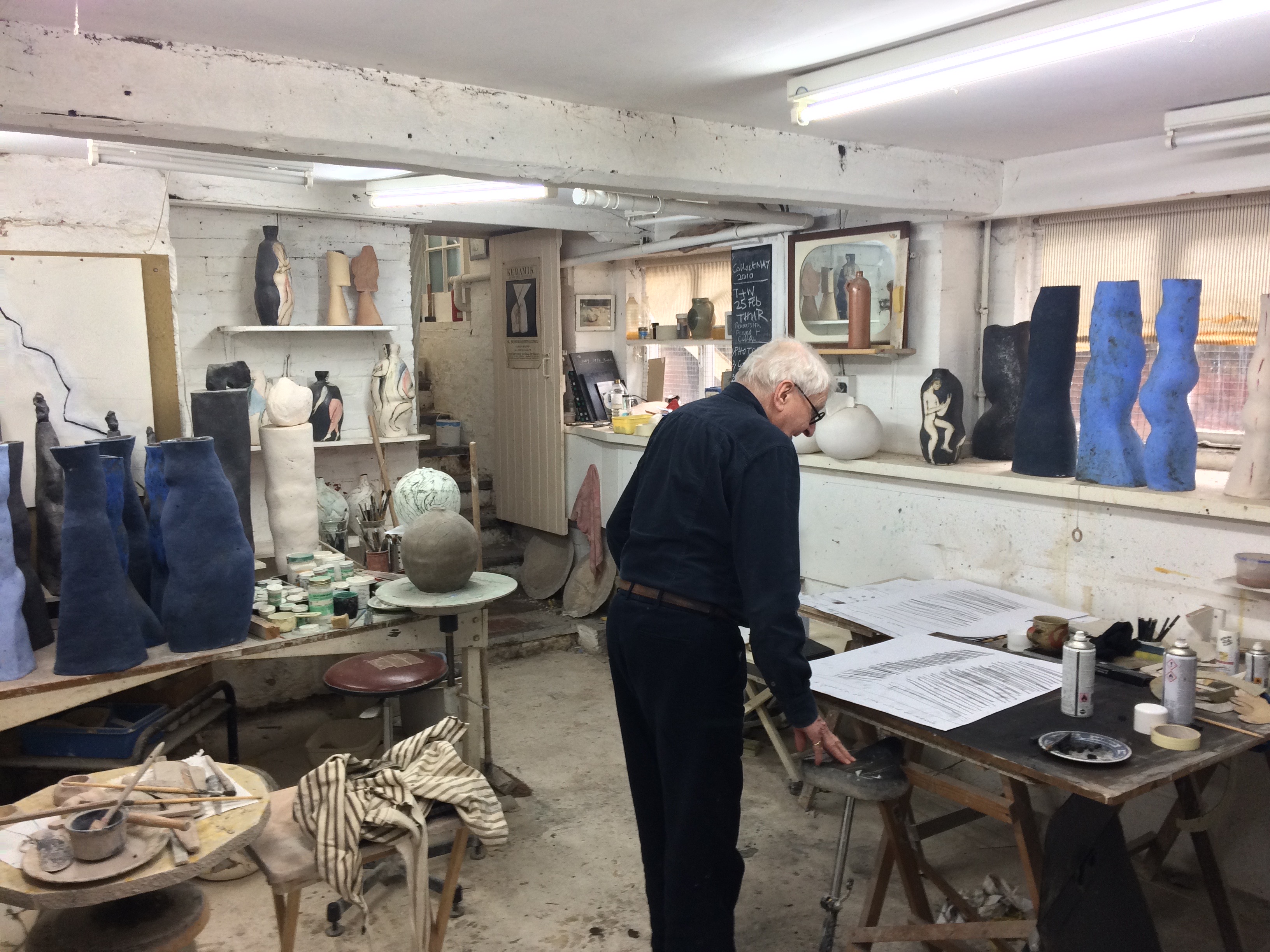 Gordon Baldwin in his studio

12th June 2023

Gordon Baldwin in his studio in 2017. Images courtesy of Rob Kessler.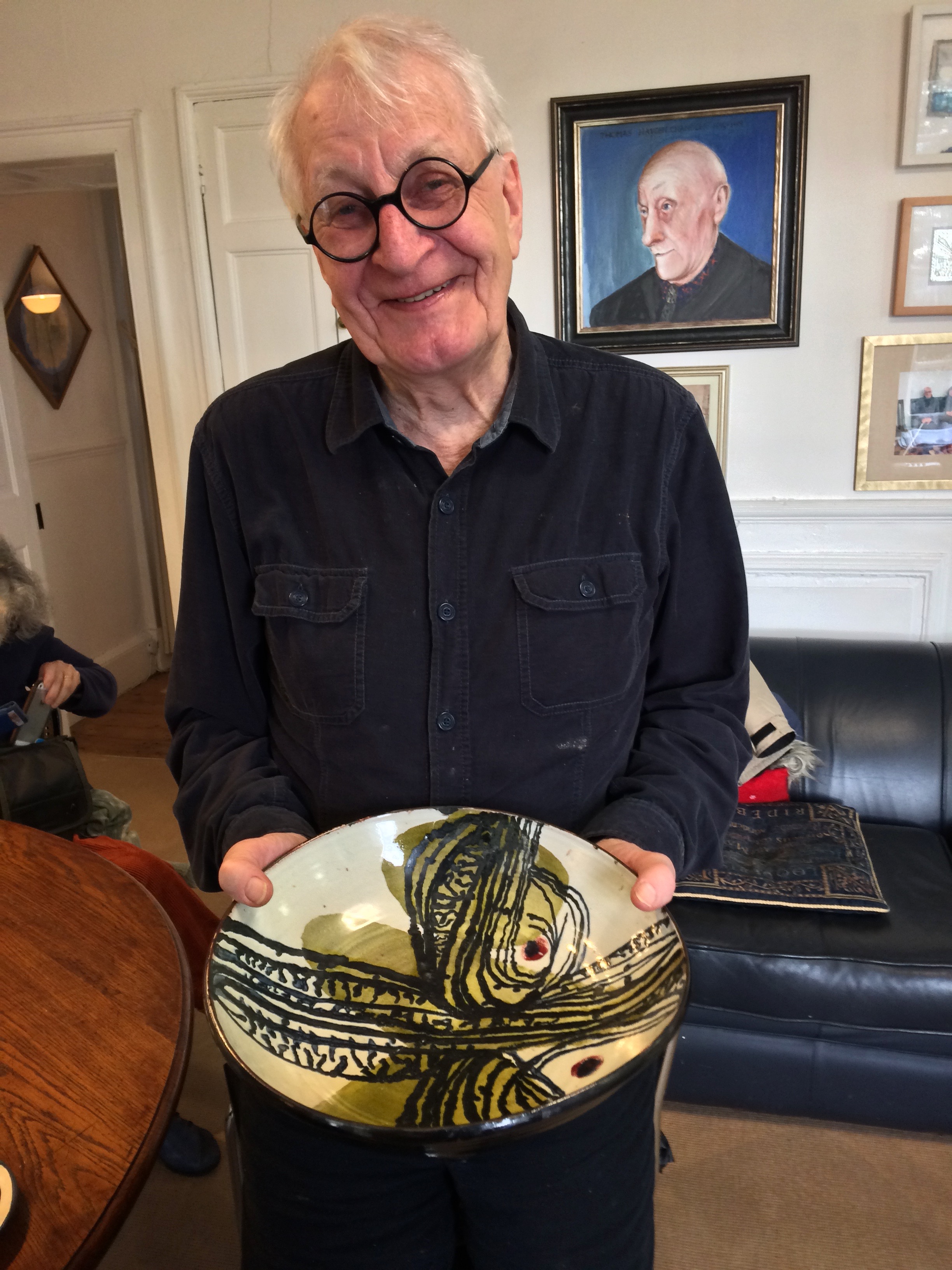 Graduation Show Dish

12th June 2023

Thank you very much Robert Kessler for these wonderful images: Gordon Baldwin is seen here holding a dish from his graduation show in 1952 at Central School of Art & Crafts in London (now CSM).
"It uses a painted maiolica technique that was a hallmark of ceramics at the college. The b/w image is from the Degree Show. I think the painted tile panel in the background owes something to the panel that Victor Pasmore painted on the floor of the gymnasium at the Central School for the Festival of Britain." - Rob Kessler

Black and white images courtesy Central Saint Martins Museum & Study Collection.
Eton College

16th May 2023

"These photos were taken during a visit to meet Gordon Baldwin at his studio in Eton College in October 1983. At the time my wife and I were touring the UK and Europe in a campervan. We were still living in South Africa and as a young artist wanting to make pots of a sculptural nature I was desperate to meet Gordon. I remember little of the visit except that we could not believe that Gordon had made the time to see us. I expect I did not know what to say but as can be seen in the photographs, the opportunity to see his working environment and to be surrounded by his work offered reassurance not to be held by convention and to strive to be an explorative, inventive, individual artist and to be comfortable working at the crossover between sculpture and pottery." - Jonathan Keep
---
Willowbrook

21st May 2023

"I was lucky enough to stay at the Baldwins' Willowbrook House, Eton in the 1980s. Standing proud in the garden were three larger than life ceramic sculptures by Gordon. During the day the forms were very dramatic, perhaps a little like giant chess pieces. At night they transformed, in my imagination, into ghostly forms."
- Chris Parkhouse
---
Studio View

16th July 2023

Studio view, circa 2006. Image courtesy of Phil Sayer
---